Forget Baghdad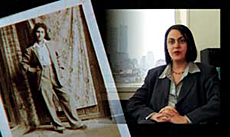 Samir / Germany, Switzerland / 2003 / 111 mins, FREE ADMISSION(Preceded by a Reception and followed by a conversation with renowned cultural studies scholar Dr. Ella Shohat who is also featured in the film. Part of "Spotlight on Muslim and Arab Women's Stories", in partnership with Ryerson University)
In Arabic, Engish and Hebrew with English Subtitles
Winner: Critics Week Award, Locarno International Film Festival, 2003 – Locarno, Switzerland; Best Documentary, Swiss Film Prize, 2003
Forget Baghdad tells the forgotten story of four Baghdadi-Jews, all former members of the Iraqi communist party who were forced to emigrate at Israel's founding.
Iraqi-born, Zürich-based director Samir (Babylon 2) "achieves a density of ideas and images that extend the boundaries of the documentary form" (Vancouver International Film Festival), fashioning a story at once "timely and thought-provoking" (Variety). Reflecting on the stereotypes of the "Jew" and the "Arab" in the last hundred years of cinema, Forget Baghdad masterfully weaves its political, social and cultural themes to a visually innovative and narratively profound end.
The four elderly protagonists (all now successful Israelis) were influenced in their youth by the internationalism of the Iraqi communist party. But in the early 1950s, their Jewish identity put them at odds with the rising Arab nationalism so characteristic of the decade. Fleeing to Israel was hardly a solution, as the men found themselves on the outskirts of a society built and governed by European Jews. Jews in Baghdad and Arabs in Israel, the divided identities and confusion of these four men's lives tell a much larger tale of global, political and cultural disorder.
______________
For Film Screening Time and Venue
Click here to visit our schedules and venue page