Anywhere Else
Ester Amrami, Germany, 2014, 87 min, in German, English, Hebrew, Yiddish, with English subtitles
Winner, Dialogue en Perspective Award, Berlin FF 2014; Independent Cinema Award, Karlovy Vary FF 2014; Best Fiction, Potsdam Sehsüchte 2014; Audience Award, RiverRun International Film Festival 2015
Canadian Premiere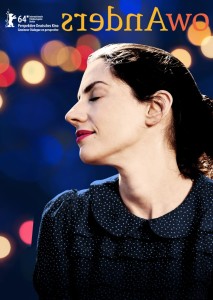 Noa has been living in Berlin for 8 years now. She is about to graduate from universtiy and recently moved in with her German boyfriend Jörg. Although everything should be running smoothly, she suddenly experiences a personal crisis. Noa's life is in discord; she feels misunderstood and isolated, in fact, she can hardly recognise herself anymore.
As Noa's master thesis, a dictionary for non-translatable words, is deemed inadequate by her professor and Jörg goes on tour with his orchestra, Noa decides to take a break and spontaneously flies back to Israel. Just a short holiday in her homeland. Sun, food, family, speaking her own language… it's all doing her a lot of good. Suddenly Noa's grandmother is hospitalized which is the perfect excuse to extend her stay, thus suppressing the problems which await her in Berlin.
But everyday life hunts her down in Israel faster than she could ever have imagined. Old resurface and new ones appear. The pressure she felt in Berlin comes to a boil, as her grandmother's condition rapidly deteriorates. Ironically she feels just as misunderstood in her homeland as she already felt in Berlin. Of all days, on Israeli National Memorial Day, Jörg has to show up, thus bringing Noa's two carefully separated worlds into collision. Even Jörg begins to doubt that they still have a chance at a future together. Will Noa somehow be able to find herself amidst this chaos?
ANDERSWO tells of Noa's search for her place in life in a touching manner which combines drama and comedy. The movie is driven by its devotion to the protagonists and it casually moves the audience to contemplate universal themes such as homeland, love, language and belonging.